Real estate listing page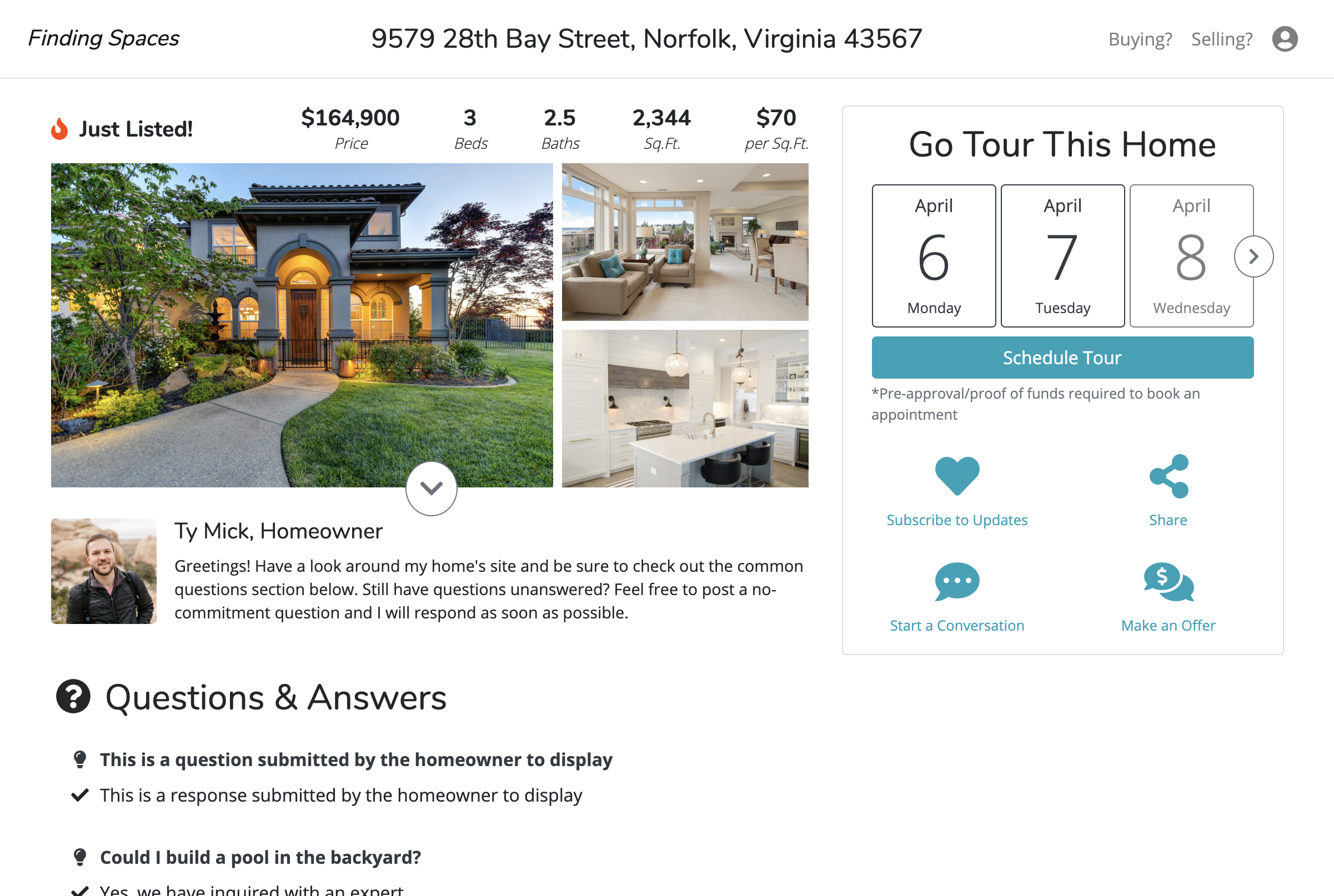 Enter demo
Source code available upon request
I built a responsive server-rendered real estate listing page, APIs, and tour scheduling functions for a client in February–March 2020. Here are the client's original requirements:
This project is best suited to be built by someone who considers, at least to a degree, themselves a full stack developer. You will be in charge of the design, UI, front-end, and back-end.

We are building a real estate solution enabling "For Sale By Owners" to represent themselves without a Real Estate Agent.
I am reaching out in hopes you can assist in creating the public listing/property page of our solution. The public listing page would need to be built using Next.js, Redux, React-Thunks, Express. We are using Firebase & Firestore for the backend.

Please be mindful we are completely self taught and have no formal experience in contracting out work, working with a team, etc. We will be very receptive to your suggestions to improve flow, efficiency, and design.
HI FI MOCK UP LINK:
https://share.proto.io/I2YHKU/

DATABASE SCREENSHOTS
https://drive.google.com/drive/folders/1DeU4P6n7kyjvOIz9Z8FXl4G-7gREAcqx?usp=sharing

1. Project Overview

The scope of this project includes but not limited to the following:

Server Side Authentication through firebase, firestore
Creating UI & State for all parts and features of the page
Creating the UI & State for the supporting pages (provided in the mock up)
Creating efficient database queries/writes through redux actions

The project requires the following:

Next.js for server side rendering
React.js
Redux for State Management
Express.js
Material-UI as the CSS framework
Google Firebase/Firestore / Google Cloud

Other dependencies preferable but not required:

React-Redux
Redux-Form
Redux-Thunk

7. Feature Breakdown

Photo Gallery

Must function like to Homes.com photo gallery
Has ability to upload video
One picture/thumbnail links to google maps (similar to homes.com)

Authentication

Wire up to firebase auth to accept google and facebook login
Limits access to specified parts of listings page when unauthenticated
Register form will ask the user to upload proof of funds or pre-approval letter. Form should accept jpeg, png, and pdf formats.

Scheduling

Each listing has a user determined general availability for time and days they are able to show the property and the schedule should reflect this.
Design it to accomodate 30 minute or hourly increments depending homeowner preference in database
Read and display real-time availability from database

Real time availability includes homeowners general availability and appointments already booked. 1 appointment per slot

Availability has 15 minute gap between appointments
This is most important feature on the listing page
"Start a conversation / Make an offer" buttons don't require any functionality. Just add them to the UI
Login is required to book an appointment

Questions & Answers

Questions and Answers are displayed based on the homeowner setting questions public or private.
Login is not required to book an appointment. If they are not authenticated, they must submit name, email, and question. If they are authenticated, form should only ask for the question.

Documents

Login not required to download
Listing has a document collection that includes id, name, description, download link
Design should be similar to mock up but there is wiggle room to make this how you like

Home Details

Initial state should show 14 items from the database
When they click view more, it should pull all home details from the database. This amount could differ between homeowners.
Need UI functionality for the expandable tabs (calculator, mortgage rate, nearby school). We will add the calculator, mortgage rate, and school apis ourselves.

Footer

Add it to the UI but doesn't need to be fully functional

8. Design

Keep the design as close to the mock-up as needed. Functionality takes priority over aesthetics and form. With that being the case, please make the page as clean and minimal as possible.

Colors: ​Use the mock up as a guide or your own discretion but we plan to go back in and add our themed colors for headings/ subtitles/buttons/etc.

Fonts:

Title/Headlines: N​unito
https://fonts.google.com/specimen/Nunito

Body: Open Sans
https://fonts.google.com/specimen/Open+Sans?selection.family=Open+Sans
I ended up making the following recommendations, all of which the client agreed with:
The design of the listing page was inspired by the general layout of a prototype the client made on Proto.io, but I did recreate it from scratch. Here are a few of the design points I'm particularly proud of:
The photo grid was largely custom-built, its only external dependencies being React Bootstrap for the grid framework and expand/collapse function and React Images for the lightbox gallery. That kind of arrangement of the photos, though, I couldn't find anywhere else, especially the functionality of allowing images to take up multiple rows and multiple columns at the same time, and handling portrait photos attractively. So I wrote that arrangement algorithm myself.

The client wished for the scheduling widget on the main listing page to remain in view at all times, which was easy to accomplish on wider screens with sticky positioning in its own column, but in the single-column layout on small screens, this large widget was covering half the screen once you scrolled past it. To fix this, I designed a miniature version of the widget that would hide behind the larger widget until the users scrolls past, after which the mini-widget would stick to the top of the screen, leaving plenty of room to see the rest of the content.

The main scheduling page queries both the home's and the user's current tour schedules in a Cloud Firestore database and disables the buttons for any conflicting days and times so they cannot be scheduled. The page and accompanying APIs also ensure that time zones are handled correctly using Luxon, and an informational message clarifying the time zone appears on the page when it detects that the user is in a different time zone from the home itself.
---
Hope you enjoy this demo, and if you'd like me to build something similar for you, I'd love to get in touch!
Sincerely,
Enter demo
Source code available upon request